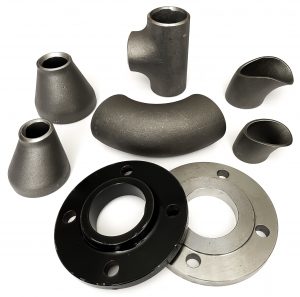 As a UK manufacturer for over 150 years we take pride in the British products that we manufacture and supply. We have been manufacturing and supplying pipe fittings to the market for over 50 years.
At our factory in Redditch, Worcestershire, we have a large capacity which vastly reduces the lead times which can be experienced from imported products.
We have our own in-house Quality Assurance team to ensure the strictest compliance with National and International Standards as well as Customer Specific Requirements. We maintain cast/heat traceability from raw material right through to the finished product.
Our Quality Management System is accredited and ceritifed to ISO9001:2015 and has been for over 30 years which supports our production and supply of high quality pipe fittings.
In addition to our own manufacturing facility we have relationships with quality international mills which are accredited and certified to ISO9001:2015, TUV and PED to ensure we always have the widest stock available.
We manufacture, stock and supply the following EN10253-2 pipe fittings in grades P235GH and P265GH:
Branch Bends – 1/2″ (15mm) NB to 6″ (150mm) NB – HVY & MED
Concentric and Eccentric Reducers – upto 6″ (150mm) NB HVY
Elbows 90° L/R – upto 10″ (250mm) NB – MED, HVY & SCH20
End Caps – 2″ (50mm) NB to 6″ (150mm) NB HVY
Reducing & Equal Tees – 2″ (50mm) NB to 8″ (200mm) NB HVY
We also stock and supply the following EN1092-1 flanges:
PN16/112 – Hubbed Slip-On (Boss) flanges (Painted black or Self Colour)
PN16/101 – Plate Raised Face flanges
PN16/105 – Blind flanges
As an ISO9001:2015 accredited company we can produce test certification to EN10204:2004 type 3.1 or 2.2 for the supplied pipe fittings.
If you would like to enquire about our range of pipe fittings and flanges or for any further information please call 01527 528925 or email sales@patentferrule.co.uk.